Now Accepting Applications for Prospective Host Families for our 32nd Sister City Summer Exchange!!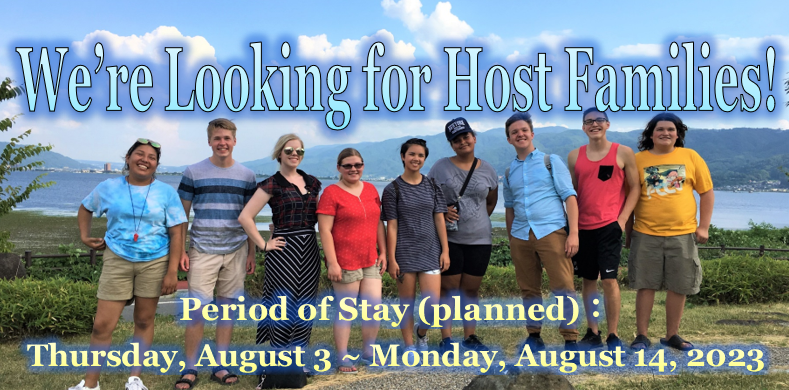 This summer, Okaya City will be accepting a senior high school student delegation from our Sister City in Mt. Pleasant, Michigan, USA! A total of 6 people are set to attend the summer exchange program, with the group consisting of 5 high school students (3 male, 2 female) and 1 chaperone (female). Participants will come to Okaya for roughly two weeks to experience Japanese culture as part of our Sister City relationship. Host Families play an essential part of this program. Host Families not only provide an insight into daily life in Japan, they help strengthen the bonds between people, with many participants keeping in contact with one another for years. We highly encourage anyone wishing to open their home to this unique exchange to become a Host Family today!
★Requirements for Prospective Host Families★
⓵ Households must be able to accommodate their international guest for 12 days.

⓶ Households must have a private room (either Japanese or Western style) for the student/chaperone to use, and members of the household must be able to actively engage with their guest for the duration of the exchange.

③ Households must be able to drop off and pick up the student/chaperone in the morning and evening (program attendees will participate in activities conducted by Center weekdays from 9:00 a.m. ~ 4:15 p.m.)

④ Households will be responsible for all expenses during their guest's stay, except for the activities offered by the Center.
※ A stipend will be given to all Host Families to help pay for some of the costs associated with hosting.
If you are interested in becoming a Host Family, or have any questions about the program or Host Family responsibilities, please feel free to contact the International Center using the telephone number below.
International Center (tel): 0266-24-3226
Host Family Application Form (word)
Host Family Application Form (PDF)