About the Okaya International Center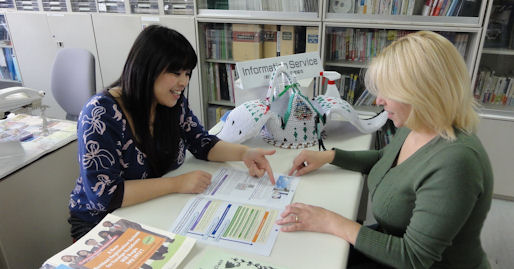 The Okaya International Center at a Glance
The Okaya International Center was founded April 10, 1992 (Heisei 4). Since then, we have hosted a number of international exchange events and activities in the Okaya city area.
Address
8-1 Saiwaicho, Old City Hall, Okaya City 394-0029
Founded
April 10, 1992
Okaya Culture
Promotion Group
Organization
Representatives
Chief of the Board of Directors    Mr. Toshio Iwadare
International Center Head      Mr. Hideyuki Osaka
Purpose
The Okaya International Center supports the international exchange activities of local citizens, groups, businesses, and foreign residents through the gathering and provision of information and consultation services.
In addition, through various kinds of international exchange programs and educational classes and seminars, we aim to deepen international understanding, as well as create a community that is open to the world.
Symbol Mark
The initial "O" from OIEA intersects the green earth, symbolizing the partnership with and broadening of international exchange.
International Exchange Center staff system
| | |
| --- | --- |
| Director | 1 |
| Administrative Staff | 1 |
| Coordinator for International Relations | 1 |
| Adjunct Personnel | 4 |
Okaya International Center Contact Information
8-1 Saiwaicho, Old City Hall, Okaya City 394-0029
TEL: 0266-24-3226
FAX :0266-24-3229

URL: https://www.oiea.jp
Access